Welcome to LM Guitar Studio
Thank you for visiting. We offer guitar lessons in Bergen County NJ, including Fair Lawn, Ridgewood, Cresskill, and surrounding areas. Helping guitarists since 2005, we look forward to helping you experience the everlasting joy of music.
As a premier guitar studio for the most dedicated guitar players, we specialize in private lessons for classical guitar, acoustic fingerstyle, and electric guitar styles, as well as ukulele. Beginners to advanced guitarists are welcome, including kids and adults of all ages. In addition to in-home lessons, we also offer live, virtual online guitar lessons via FaceTime, Zoom, or Skype. This has become a flexible option to accommodate schedules, and an effective alternative for students in other towns or states.
 
A local and independent music studio, our roster is limited to ensure high quality instruction and unique personalization just for YOU. Learn to play the music you love and enjoy the powerful benefits of one-on-one guitar sessions.
As a guitar teacher and mentor, it has been an honor to serve such committed guitarists over the years - from aspiring musicians to experienced performers and recording artists. Whether you are just getting started and would like to develop a strong musical foundation, or an experienced guitar player looking for inspiration to expand your technique, repertoire, and musicality, I am happy to help guide you in a stress-free, highly enjoyable process...
Read Reviews & Testimonials
"

Leon is a fantastic teacher-- he immediately was enthusiastic and interested in helping me along to grasp the songs I wanted to work on. His teaching style is very clear and has had me learning at a faster pace with a more thorough understanding of the material then I ever have before. He's extremely personable and always inviting you ask questions and grasp the theory behind the music. He writes everything out for you, and makes it pleasurable and easy to practice. I'm extremely happy with Leon and would recommend him to anyone looking to learn guitar -- beginners or advanced players-- Leon is a great teacher." - Tom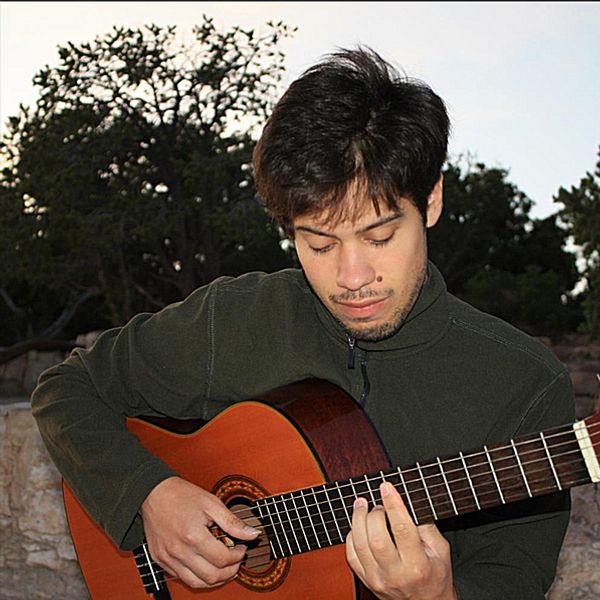 Meet Your Guitar Teacher
As a professional guitarist, composer, and recording artist, Leon has worked and appeared on recordings alongside members of Mick Taylor, Whitesnake, Journey, Garden State Opera, and Broadway. He has also contributed music for National Geographic and documentary film.
 
Leon Muhudinov is a guitar teacher providing classical, acoustic, and electric guitar lessons in Bergen County NJ and remote lessons online. As a guitar instructor and mentor, Leon has been the go-to trusted source for serious, dedicated guitarists. For many years, Leon has served on the faculty of the long-running and well-loved Woodside Music Studios, and continues to guide his own roster of committed protégés. Classically trained, and always on an adventure, he enjoys helping guitarists from a variety of musical backgrounds. Overcome challenges so you can grow as a musician, discover joy in your practice, and truly experience your own music journey.
 
As an experienced professional, he has a proven track record of great students and happy families for over 15 years. Passionate about sharing the gift of music, with patience and care, Leon will help you learn to play guitar with a natural, organic approach. Beginners to advanced guitarists are welcome. Learn key teachings to take your guitar playing and music making to the next level.
Lessons
Classical Guitar | Electric Guitar | 
Songwriting & Composition | Improvisation
 
Premier Choice for Guitarists 
Learn from an experienced, professional guitar teacher and musician. Instead of feeling like a chore, guitar lessons become the most inspiring part of your week. 
It is an honor to work with such happy, dedicated students and parents for over the years. A holistic approach, limited enrollment, and extraordinary retention rate serve to make the most of your music experience as the focus stays on YOU. (Most of our students stay enrolled 5-10+ years!) 
Many choose to perform in school and community settings, or continue to pursue their own groups, write their own songs, and work on recording projects.

Stress-Free Guitar Lessons You Will Love
Enjoy a friendly environment from the comfort of your home. In-home or virtual lessons are available. No driving or scheduling hassles, or confusing tuition. A consistent, dependable schedule and flexible payment options help you stay focused on the music. 
Enjoy learning your favorite songs and styles including: classical, fingerstyle, rock, metal, pop, blues, jazz, country, folk, world music, and more. Whether you're interested in soaring lead guitar solos, expanding chord vocabulary and strumming, or works for classical guitar, we are happy to guide you along the way.
Discover the art of music making with a high quality program uniquely personalized just for YOU. Learn guitar techniques, principles of language immersion, philosophies and problem solving skills will help you overcome challenges, have fun in the process, and continue your musical journey... 
 
Feel the Life-Changing Gift of Music
Cultivate your passion for guitar, music, and learning. Experience real results and play guitar the way you have always wanted. Develop your ear and understanding. Grow as an independent musician and unlock your creativity. Discover a source of intrinsic joy as you immerse yourself in your music practice. Through this, you can experience all the benefits of playing an instrument, and apply these teachings to other aspects of everyday life.
Playing a musical instrument is one of the best investments you can ever make. Feel the intrinsic joy of playing music. Experience the powerful benefits to your health, cognition, social, emotional & spiritual well-being.
 
Contact by December 11, 2023
(click here)
⬇️
"

I have learned more with you in a few weeks than my entire semester at University as a performance major " - Joe
"

I didn't even know what I wanted to learn at that time, but after a brief phone interview, I decided to work with Leon and I never looked back since. Above all, I would like to point out that Leon is a very patient teacher, and he understands each of his student's unique needs, never insisting one way or one style. I would recommend Leon to any level of players, but especially to the advanced ones. We all know how hard it is to find a teacher who can challenge and cultivate advanced level players." - Stephen